So here's the backstory of how I ended up on The Ricki Lake Show.
Getting there was a bit of a fiasco and I learned three important lessons as a result.
If you don't want to know the backstory, just scroll all the way down to the videos.
On Wednesday February 13th, 2013 I got an email through the site from a casting guy at The Ricki Lake Show. He said they were looking for someone who used juicing to beat cancer and that he found my site with a google search, watched some of my videos, and wanted to talk with me about coming on the show the following Tuesday.
I replied to his email and then left him a voicemail. I didn't want to leave anything to chance.
He called me back a few hours later and explained that they would fly me to LA the day before the show and put me up in a hotel that night, and I would fly home after the taping.
Interview opportunities like this can be a little bit dangerous. Depending on their agenda, a producer can make you look like the greatest guy in the world, or a like total idiot. I was fully aware of this possibility, but was willing to take the risk, so I said yes. Also there was no compensation involved.
On Friday we had a phone interview. It was supposed to only take 15-20 minutes, but we ended up talking for 45 minutes. He had a lot of questions and admitted afterward that he was fascinated by what I had to say. Our conversation gave me the impression that their intention was to portray my story in a positive light, but I was still thinking it could be a set up. He also took down my shirt, pant and shoe size. So I assumed they would be outfitting me in wardrobe.
On Saturday night I received an email with flight details. As I looked over the itinerary I noticed they had booked a flight from Memphis to LA with a connection in Charlotte.
For the geographically challenged, LA is about a five hour direct flight due west from Memphis, but Charlotte is a two hour flight east from Memphis, which meant I would spend an extra FOUR HOURS on a plane each way. This was the worst connection I'd ever seen. Imagine traveling two hours in the wrong direction then two hours back to where you started, then four more hours to where you're going. Plus the flight home was a red eye, that's about an eight hour overnight flight plus a layover. I'm ok with flying, but all things being equal, I'd rather not spend an extra 8 hours on a plane in a 36 hour period if at all possible. I was really dreading this big time.
Lesson #1 Always ask for a direct flight.
I called the casting guy, explained the situation, and asked as nicely as I could if there was any way it could be changed. I had already identified a few other preferable flights, which I referenced in our conversation. He said he would see what he could do.
The next day, Sunday, he sent me an email stating that my flight was being changed and they would be sending the new flight info shortly. Great! Big relief.
But by bedtime Sunday night I still had not received the new flight details. I was set to fly out the next day and I was starting to get a little nervous…
The next morning I got up at 6am and checked my email, still nothing. I was worried, but it was 4 am in LA so I couldn't call anyone. I got ready, had breakfast, packed my bag, and did some office work, hoping to hear something soon.
At 7:45 am I got an email, they got me a direct flight from Memphis to LA…
Yes!
Leaving in 40 minutes at 8:25 am.
Oh no!
There was no way I could make the flight. Things were not going my way.
I called the casting guy back and told him the new problem. I was really starting to feel like a chump for even asking him to change the flight in the first place. But he wasn't in charge of booking the flight and was just as frustrated as I was that they waited so long to send me the new flight info. I called the airline and found another flight leaving at 1pm with connection in Salt Lake, and I could transfer my ticket for $50 bucks… I'll take it!
The rest of the trip went smoothly and I even got a nice pre-flight mini-massage from a TSA official when I opted out of the full body scan.
When I arrived at LAX a driver was waiting for me with a sign with my name on it. Nice.
He walked me to a black Cadillac Escalade and drove me to a swanky "old hollywood" hotel called The Culver Hotel.
Check out the key card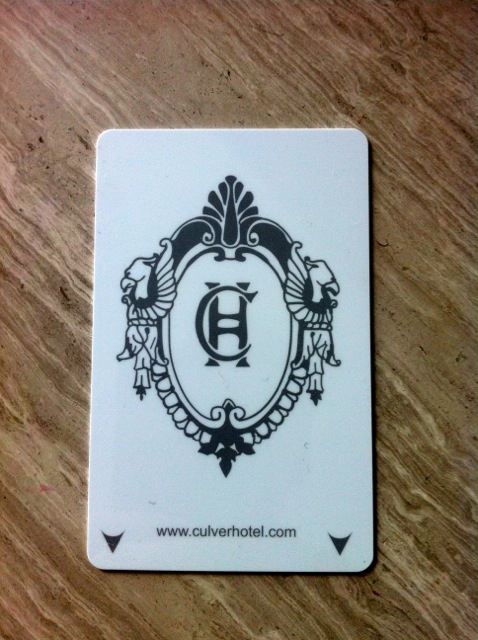 Told you it was swanky.
As soon as I got into my room I checked my email. There was a new message from the show detailing the clothes I was supposed to bring. "Please bring three changes of clothes, business casual attire".
Ok. Hmm. I didn't even bring one business causal outfit, let alone three. So I called the casting guy again.
Have you ever had someone in your life who constantly calls you with their problems?
I had become that guy. I was like, "Hey man, so I just got this email about what clothes to bring. They didn't send it until today. And I don't have anything to wear." He came by the hotel to meet me in person and see what clothes I had (a nice pair of jeans and a plaid button up shirt). He said, "This might work. If not, don't worry about it, we'll figure something out in wardrobe."
That made me feel a little better, but I was still concerned. I checked google maps for a Gap,
J Crew, Banana Republic, anything close by… No dice. I went downstairs to get something to eat and asked the guy at the front desk if he knew of anywhere I could buy some clothes. He said, "There's a Ross a few blocks down the street." Minutes later I was schlepping it down the street in LA to Ross in search of business casual.
Ross was a total bust. Everything in the mens department was "urban street wear". Not the look I needed… Ok God, it's in your hands. You got me here. I'm sure you can find me something to wear.
Lesson #2 Always bring three changes of clothes to wear on television.
Also don't wear white, or stripes, or plaid. They look weird on camera.
The morning of the show I walked across the street and had breakfast at an amazing restaurant called… I forget. And I don't feel like digging up the receipt. It definitely wasn't a Denny's.
Here's what I ate: local organic farm-raised eggs scrambled with some spinach, red pepper, mushrooms, a side salad and iced green tea. It was perfect.
After breakfast the casting agent met me and two other guests (Jenifer Schuerman and her mom) in the lobby of the hotel and we all hopped on a golf cart and whizzed through the Culver Studios lot to the Ricki Lake set.
Everyone working on the show was super nice. Every time I turned around someone was telling me how much they loved my story and how excited they were to have me on.
Maybe they say that to all the guests… but either way, it felt good and was a definite confidence booster.
My dressing room even had a little sign with my name on it.
I posted this pic on facebook and a bunch of people were like, "No way! When!" etc.
Here's the dressing room. I spent most of my time pacing back and forth, thinking about what I wanted to say. Also pictured: my green tea from breakfast.
A girl from wardrobe stopped by with two paris of pants, two shirts, two sweaters and some dress shoes. After some deliberating we both agreed on the best combo. And before I knew it someone was knocking on the door saying, "Ok it's time".
I took this next pic as I was standing backstage waiting to go on. I was trying not to think about how many people were going to see the show and focused on treating it like I was just speaking to a small group. It wasn't working.
Before Ricki brought me out, she showed the audience a short video clip of my story. When the clip finished there was huge applause. A producer turned to me and said, "They never do that. They never clap after a video clip." That got me pretty jazzed.
As soon as the applause died down Ricki called me out. I walked out to more applause, feeling a bit like a celebrity, and praying I didn't trip on something. When I sat down on the couch with Ricki she said, "Did you ever think you'd be sitting here ten years later after this kind of diagnosis?" She had tears in her eyes, which got me all emotional too!
I almost lost it right there and had to look down to regain my composure. I made a little joke to lighten the mood, but I have to say it was really tough to keep it together in the beginning. The more I talked the more comfortable and relaxed I got. Everything was clicking and I really got on a roll. Ricki is such a pro and a really sweet person. She made it so easy.
During the commercial break I whipped out my phone and took a picture of the audience from the couch.
Lesson #3 Know exactly what you want to say. Don't ramble.
Thankfully I got some incredible advice from my friend Rhonda Price. She explained that with national TV appearances like this you usually only get a couple minutes to talk. So you have to distill your story and message down to the most important points, which I did. But at the same time I still had no idea what to expect. I thought best case I would get a full segment (about 4-5 minutes) to tell my story, and worst case I would be on stage with several other people and only get to answer a couple questions. But to my surprise they had me on for two full segments, and then they brought me back up for audience Q&A at the end!
It went better than I could have imagined.
Thank you to Ricki, Jarrett, and everyone on The Ricki Lake show for being so awesome.
Here are the clips…
Enjoy!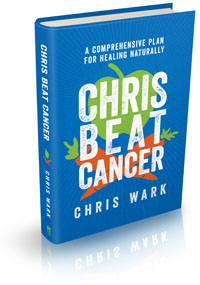 Chris Beat Cancer: A Comprehensive Plan for Healing Naturally,
published by Hay House, is a National Bestseller as ranked by USA Today, The Wall Street Journal, and Publishers Weekly!
Get it on Amazon here
, or anywhere books are sold.
I've interviewed over 60 people who've healed all types and stages of cancer. Check them out
here
. Or use the search bar to find survivors of specific cancer types.
Chris Beat Cancer is reader-supported. If you purchase a product through a link on this site I may receive compensation from the affiliate partner (like Amazon). Your support helps fund this blog and my mission so my team and I can continue to do the work that we do. Thank you!