Rip Esselstyn was a professional plant-based triathlete for 10 years before becoming a firefighter in Austin, Texas. During that time, Rip helped his entire firehouse (Engine 2) convert to a plant-based diet, helping his fellow firemen lose weight and reverse various chronic diseases.
In 2009, as a result of that experience, he wrote a massive bestseller called The Engine 2 Diet and created the global Plant-Strong movement. Since then he has authored multiple bestsellers including: Plant-Strong, The Engine 2 Seven-Day Rescue Diet, and The Engine 2 Cookbook.
Rip was an executive producer for the documentary film The Game Changers and also hosts the Plant-Strong Podcast.
And Rip recently became a world record holder in the 200-meter backstroke in his age group, 55-59!
You're going to love this interview recorded somewhere in the Caribbean Sea from my cabin aboard the 2020 Holistic Holiday at Sea Cruise, in the good old days before COVID-19 shut down the planet. Watch below, or listen to it on the Chris Beat Cancer podcast on iTunes or Spotify. Enjoy!
Download the interview transcript here
Show Notes
-A pre-diabetic firefighter's plant-based transformation [02:37]
-Rip's dad's research led him to change his diet [04:48]
-Life as a professional plant-based triathlete [7:29]
-From swimming, biking, and running to fighting fires [07:53]
-Firefighters have a higher risk of cancer [13:53]
-Eating "off the wagon" at fire station 1 [16:20]
-Some people are impossible to help [19:55]
-A cholesterol level bet and the origin of the Engine 2 Diet [21:56]
-The first plant-based fire house in history [24:30]
–The Game Changers: world class plant-based athletes [26:40]
-"Real men don't eat meat" [31:51]
-A performance diet vs a regular healthy diet [34:57]
-Rips's favorite plant-based meals [39:14]
-The problems with animal protein [45:22]
-How casein in dairy products promotes cancer growth [47:13]
-Why plant-based protein is superior [48:39]
-There's no such thing as incomplete plant protein [49:07]
-Your body recycles protein [50:50]
-What happens when you eat too much protein [51:45]
-What the future holds for Rip [52:30]
-The importance of buying your own food [55:10]
-How to become a label reading ninja warrior [56:20]
-From 334 to 196 total cholesterol in 30 days on a plant-based diet [57:08]
-Nick's 107 point cholesterol drop in 7 days!  [59:43]
-"When you stop eating cholesterol, your cholesterol goes down." [1:00:57]
-The one fruit that is off limits for Rip [1:01:37]
-The Engine 2 Seven-Day Rescue Program [1:03:00]
If you liked this interview, check out my interview with Rip's amazing dad, Dr. Caldwell Esselstyn on how to prevent and reverse heart disease with a plant-based diet.
Also don't miss Rip's event Plantstock 2020, a weekend of science and research coupled with inspiration and hands-on learning. Join me in  this epic online workshop live-streamed from the Esselstyn family farm that will help you harness the power of plant-based nutrition to optimize and thrive. Register at: https://plantstock2020.com/chris-wark/
The Engine 2 Diet by Rip Esselstyn
Prevent and Reverse Heart Disease by Caldwell Esselstyn MD
The Game Changers movie
Connect with Rip:
Website
Books
Podcast
7-Day Rescue Challenge
…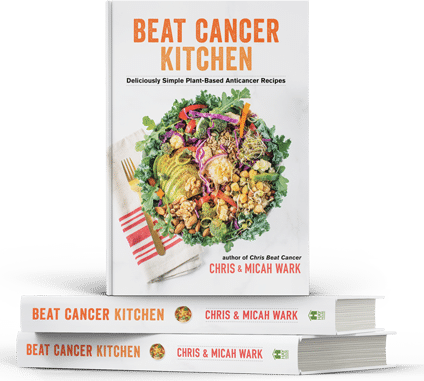 Beat Cancer Kitchen: My New Recipe Book,
Deliciously Simple Plant-Based Anti-Cancer Recipes
Get it on Amazon here
Beat Cancer Daily
365 Days of Inspiration, Encouragement, and Action Steps to Survive and Thrive
Get it on Amazon here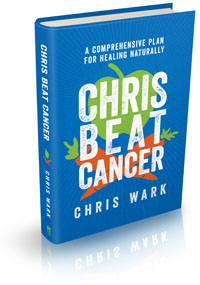 Chris Beat Cancer: A Comprehensive Plan for Healing Naturally,
published by Hay House, is a National Bestseller as ranked by USA Today, The Wall Street Journal, and Publishers Weekly!
Get it on Amazon here
, or anywhere books are sold.
I've interviewed over 60 people who've healed all types and stages of cancer. Check them out
here
. Or use the search bar to find survivors of specific cancer types.
I also created a coaching program for cancer patients, caregivers and anyone who is serious about prevention called SQUARE ONE. It contains the step-by-step strategies used by myself and everyone I know who has healed cancer with nutrition and natural, non-toxic therapies.
Watch SQUARE ONE Module 1 for free here
(((c)))
Chris Beat Cancer is reader-supported. If you purchase a product through a link on this site I may receive compensation from the affiliate partner (like Amazon). Your support helps fund this blog and my mission so my team and I can continue to do the work that we do. Thank you!