Ever find a product that is so awesome that you just can't stop talking about it?
The Vitamix 5200 is one of those products.
Everyone I've ever met who owns a Vitamix is a rabid fan, kind of like Apple users…
The Vitamix is the legendary commercial grade blender that most smoothie bars use
and its 2HP motor will make your blender at home look like a toy.
The Vitamix is the single most versatile kitchen appliance on the planet and it is the Number One Investment you should make in your kitchen. It will rock your world. I'm serious!
It comes with 400 whole food recipes for smoothies, blended veggie juice,
nut butters, soups, salsa, guacamole, healthy ice cream, even how to churn fresh butter and mill whole grains.
Consumer Reports gave the Vitamix 5200 an 89 out of 100.
It is their highest rated blender!
Unlike most cheap low-quality products imported from China, the Vitamix is made in the USA, built to last, and comes with a 7 year warranty.
I've destroyed several cheap blenders over the years and if my Vitamix ever dies, I'll buy another one. :)
The Vitamix 5200 comes in red, white, black, and stainless steel finsh. I have the red one and I love it in a way that is probably not healthy. LOL!  I even take it on vacation with me!
Also give you a 30-day free trial and free shipping:
Price Vitamix models at vitamix.com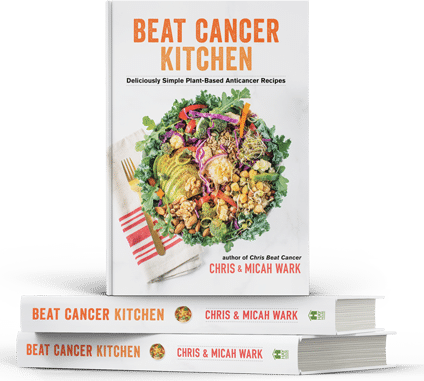 Beat Cancer Kitchen: My New Recipe Book,
Deliciously Simple Plant-Based Anti-Cancer Recipes
Get it on Amazon here
Beat Cancer Daily
365 Days of Inspiration, Encouragement, and Action Steps to Survive and Thrive
Get it on Amazon here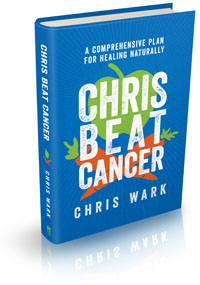 Chris Beat Cancer: A Comprehensive Plan for Healing Naturally,
published by Hay House, is a National Bestseller as ranked by USA Today, The Wall Street Journal, and Publishers Weekly!
Get it on Amazon here
, or anywhere books are sold.
I've interviewed over 60 people who've healed all types and stages of cancer. Check them out
here
. Or use the search bar to find survivors of specific cancer types.
I also created a coaching program for cancer patients, caregivers and anyone who is serious about prevention called SQUARE ONE. It contains the step-by-step strategies used by myself and everyone I know who has healed cancer with nutrition and natural, non-toxic therapies.
Watch SQUARE ONE Module 1 for free here
(((c)))
Chris Beat Cancer is reader-supported. If you purchase a product through a link on this site I may receive compensation from the affiliate partner (like Amazon). Your support helps fund this blog and my mission so my team and I can continue to do the work that we do. Thank you!