Here's my interview talking about my new book Chris Beat Cancer with Debbie Matenopoulos and Cameron Mathison on Home & Family on the Hallmark Channel, which aired on November 15th, 2018. Everyone at Home & Family was amazing to work with and Debbie and Cameron are just as nice off-screen as they are on-screen. It was so much fun!
As I talk about in the interview, 10 servings of fruits and vegetables per day is the new minimum standard for healing and disease prevention. I know 10 servings sounds like a lot, but you can easily eat 5-10 servings in one meal if you focus on eating whole plant foods and exclude animal foods.
FYI
– One serving of fruit or vegetables is 1/2 cup
– One serving of leafy greens is 1 cup
– One serving of nuts is 1/4 cup
Here is my smoothie recipe which contains 11 servings of fruits and vegetables:
Put the following in a blender (I'm a Vitamix fan):
– 2.5 cups frozen organic mixed berries = 5 servings
– 1 cup of spinach or kale = 1 serving
– 1/2 cup of cauliflower
– 6 pitted dates or 1.5 bananas = 1.5 servings
– 1/2 cup of almonds or walnuts = 2 servings
– 8-10 oz of water
Blend until smooth.
This yields about a 28 oz (800 ml) smoothie. Enjoy!
*I get most of my organic smoothie ingredients at Costco. See this post: Super healthy food we buy at Costco.
Fun fact: When they brought the smoothie out before taping our segment, I looked at it and thought to myself, "Hmm it's not supposed to be brown…" I sent them the recipe above in advance, but I still have no idea what the chef behind the scenes actually put in it. LOL! It did taste good though.
This smoothie will be reddish purple in color, especially if blueberries are involved. :)
Special request: If you enjoyed my segment on Hallmark Home & Family please let them know on twitter @homeandfamilytv and hopefully they will have me back on!
To see what a typical day of meals looks like for me, see my post What I ate today (and pretty much every day).
…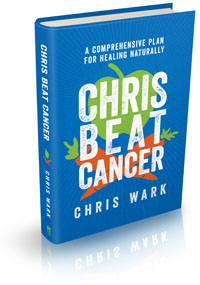 Chris Beat Cancer: A Comprehensive Plan for Healing Naturally,
published by Hay House, is a National Bestseller as ranked by USA Today, The Wall Street Journal, and Publishers Weekly!
Get it on Amazon here
, or anywhere books are sold.
I've interviewed over 60 people who've healed all types and stages of cancer. Check them out
here
. Or use the search bar to find survivors of specific cancer types.
I also created a coaching program for cancer patients, caregivers and anyone who is serious about prevention called SQUARE ONE. It contains the step-by-step strategies used by myself and everyone I know who has healed cancer with nutrition and natural, non-toxic therapies.
Watch SQUARE ONE Module 1 for free here
(((c)))
Chris Beat Cancer is reader-supported. If you purchase a product through a link on this site I may receive compensation from the affiliate partner (like Amazon). Your support helps fund this blog and my mission so my team and I can continue to do the work that we do. Thank you!