So I'm often asked "Where do you buy your food?" Well, when I first started this journey in January 2004, organic food was pretty scarce in Memphis, TN. Now (thank the Lord on high) it is much easier to find.
We shop at various places like Whole Foods, Kroger, Fresh Market, Sprouts and local Farmer's Markets. And my wife Micah does a pretty good job of keeping up with which store carries what, and who has better prices, etc.
A couple years ago we discovered that Costco has a great selection of organic food and health food. So I thought it would be fun and helpful to take pictures of the super healthy food we buy at Costco on a regular basis.
Different Costco stores carry different things, so your Costco may not have everything that mine does. Regardless, if you haven't yet, you should definitely stroll the aisles of your local Costco to see what they have. I bet you'll be pleasantly surprised.
Note: I am a huge advocate of buying local organic produce from family farms, but the reality is that most of these items are just not available at my local farmers market, especially in the winter. Also I am not being compensated in any way to endorse Costco.
Here's a sampling of what we buy at our local Costco:
Organic Carrots For Juicing! This is the same brand that we used to buy at Whole Foods,
only cheaper.
Organic Spring Mix for my Giant Cancer Fighting Salads
Organic Baby Spinach. Another salad staple. Also great in fruit smoothies.
Spinach is pretty bland and doesn't affect the taste of smoothies.
It's an easy one to sneak in, if your kids drink fruit smoothies.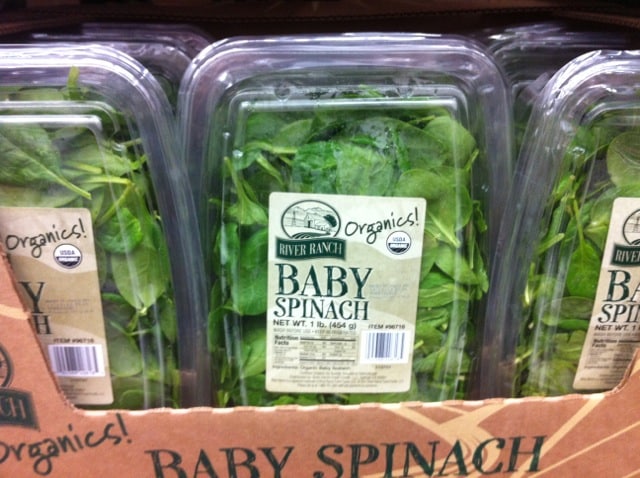 Organic frozen Mixed Berries: Blueberries, Blackberries, and Raspberries.
A key ingredient of my Anti-Cancer Smoothie!
Sometimes this mix also contains strawberries or cranberries (yes!). Other times they have big bags of organic berries that I buy separately.
Sometimes they only have these huge bags of frozen Organic Wild Blueberries.
Hey I'll take what I can get!
And here's some frozen Organic Dark Sweet Cherries.
Great for smoothies in the winter when they are in season.
Big bags of frozen Organic Broccoli Florets. I mainly put this in smoothies.
I prefer fresh broccoli for salads.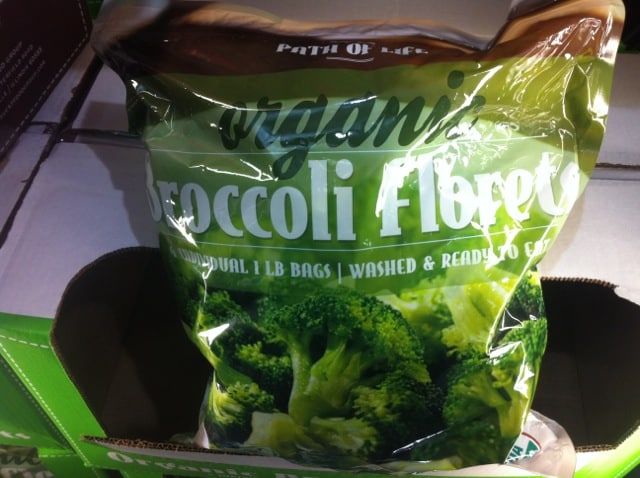 Creamy Roasted Almond Butter. Not organic, but still, it's great to see almond butter at Costco. Also it's not raw, but don't be afraid of roasting…
According to this peer-reviewed study, roasting almonds doubled the antioxidant activity and phenolic compounds in almond skins, better than freeze drying or oven drying. Also raw organic almonds and almond butter can be crazy expensive. So yes, sometimes I buy non-organic roasted almond butter.
Hemp Seeds! I completely lost it when I first saw this at Costco. Hemp seeds are arguably the best source of plant-based protein on earth, plus they has the perfect ratio of Omega 6 and Omega 3 fatty acids at 4:1. Three tablespoons gives you 11 grams of protein. Shelled hemp seeds are very soft and the taste reminds me of sunflower seeds. And although hemp seeds cannot get you high, it is still illegal to grow them in most of the US, so most hemp is imported form Canada, including this brand. Hemp seeds are great to put in smoothies, oatmeal, and the Budwig CCFO (Cottage Cheese Flax Oil) mixture.
Organic Flax Seed Powder Flax seed is a terrific source of omega 3's, fiber and protein.
I put two tbsp of flax in my Supercharged Oatmeal every morning.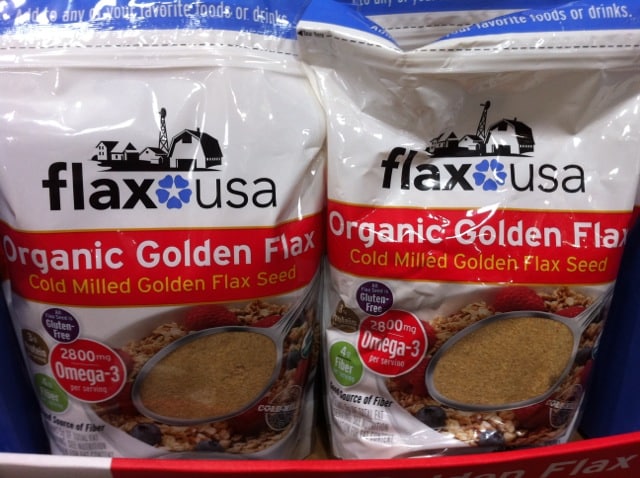 USDA Certified Organic Gala and Fuji Apples. About $9 for 12 apples.
Cool. Throw 'em in the cart.
USDA Organic Brown Basmati Rice in large bags. I'll take some of that, thank you.
And just a few feet away: Organic Sprouted Rice and Quinoa Blend. Super yes.
California Pomegranates 6 for $12.99. That's actually a great price. Poms be expensive!
Also I don't worry about them not being organic because I don't eat the skins.
See this post for which produce to always buy organic.
For the meat eaters…
Wild Alaskan Copper River Sockeye Salmon
Followers of this blog know that my diet is 98-99% plant-based. Wild-caught salmon is pretty much the only fish I eat, and I only eat it about once per month.
Farm Raised Salmon on the left, Wild-Caught Salmon on the right.
Definitely go with wild-caught. I wrote a post all about the horribleness of farm-raised fish here.

And now a word from our sponsor:
TANG
Tang is a delicious nutritious powder drink that comes in a can.
Being natural is important. That's why Tang comes in "natural orange flavor".
Even though tang does not contain any real orange particles, Tang gives you all the nutrition you need to keep you feeling your best in your busy modern lifestyle.
Enjoy Tang with breakfast or anytime day or night on earth, or while faking a moon landing. Also available at Costco.

If you didn't catch it, that last one was a joke.
;)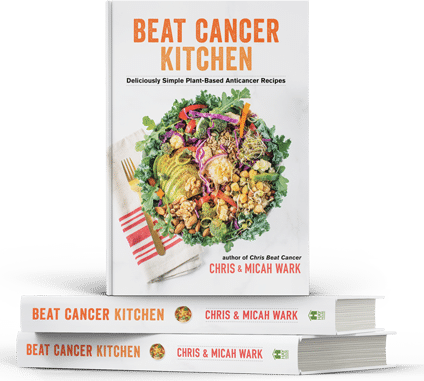 Beat Cancer Kitchen: My New Recipe Book,
Deliciously Simple Plant-Based Anti-Cancer Recipes
Get it on Amazon here
Beat Cancer Daily
365 Days of Inspiration, Encouragement, and Action Steps to Survive and Thrive
Get it on Amazon here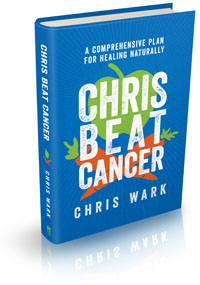 Chris Beat Cancer: A Comprehensive Plan for Healing Naturally,
published by Hay House, is a National Bestseller as ranked by USA Today, The Wall Street Journal, and Publishers Weekly!
Get it on Amazon here
, or anywhere books are sold.
I've interviewed over 60 people who've healed all types and stages of cancer. Check them out
here
. Or use the search bar to find survivors of specific cancer types.
Chris Beat Cancer is reader-supported. If you purchase a product through a link on this site I may receive compensation from the affiliate partner (like Amazon). Your support helps fund this blog and my mission so my team and I can continue to do the work that we do. Thank you!