So there's a study out claiming that a low-carb diet is better for weight loss and heart health than a low-fat diet.
It's making major headlines, but apparently most folks haven't actually studied the study.
In today's vlog I discuss this hilariously bad piece of…scientific research.
One more thing I inadvertently left out. Dr Dean Ornish and Dr. Caldwell Esselstyn have both published studies demonstrating that a healthy, low-fat, plant-based, whole foods diet can clinically reverse advanced heart disease. To my knowledge, there are no comparable studies showing a reversal of advanced heart disease with a low-carb diet.
Watch my interview with Dr. Esselstyn here
Read Dr. Esselstyn's heart disease reversal study here
And if you or someone you care about has heart disease, buy his book!
(It has over 700 5-star reviews on amazon)
Prevent and Reverse Heart Disease: The Revolutionary, Scientifically Proven, Nutrition-Based Cure by Dr. Caldwell Esselstyn MD
Here's Dr. David Katz's insightful commentary on the low fat vs low carb study
Am I biased toward a lower fat diet?
Yeah you could say that. For a few reasons. Fat only comprises about 23% of my daily caloric intake, and those are primarily fats from almonds, walnuts, flax, chia, hemp, avocados, the occasional coconut, and little to no oils. So I'm thriving on a diet that is pretty low in fat. Beyond that, the vast majority of people I know who healed cancer with nutrition did it with a whole foods plant-based diet that was low in fat as well. A prime example is The Gerson Therapy, which is one of the most effective time-tested nutrition protocols to heal cancer, and is also very low in fat. No oils are allowed except flax oil.
…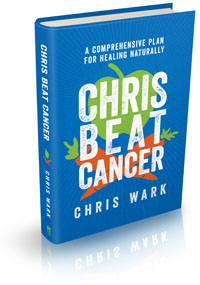 Chris Beat Cancer: A Comprehensive Plan for Healing Naturally,
published by Hay House, is a National Bestseller as ranked by USA Today, The Wall Street Journal, and Publishers Weekly!
Get it on Amazon here
, or anywhere books are sold.
I've interviewed over 60 people who've healed all types and stages of cancer. Check them out
here
. Or use the search bar to find survivors of specific cancer types.
I also created a coaching program for cancer patients, caregivers and anyone who is serious about prevention called SQUARE ONE. It contains the step-by-step strategies used by myself and everyone I know who has healed cancer with nutrition and natural, non-toxic therapies.
Watch SQUARE ONE Module 1 for free here
(((c)))
Chris Beat Cancer is reader-supported. If you purchase a product through a link on this site I may receive compensation from the affiliate partner (like Amazon). Your support helps fund this blog and my mission so my team and I can continue to do the work that we do. Thank you!