In today's video, I'm unzipping my travel bags and showing you all the fun and healthy stuff I travel with…. Enjoy!
Links to everything I mention in the video and *a few things I forgot about:
Chris Beat Cancer (the book)
Luggage
Away carry-on roller bag
Aer Travel Pack (backpack)
Cargo Works Laptop Shoulder Bag
Tech Stuff
Sunpak 4200XL Tabletop Tripod
Vastar iPhone Tripod Mount
Dual Lavalier Microphone
NOMAD Universal Charging Cable (5ft)
Apple AirPods
Apple EarPods (for in-flight movies)
*Two-Port USB Travel Charger
Food & Supplements
Organic Larabars
Whole Foods 365 magnesium
Jason Winters Tea
Pique Organic Matcha Green Tea Packets
Melatonin for time zone/jet lag emergencies
Beta-glucans, Bosmeric-SR, and Vitamin D3 from Better Way Health
Sufficient-C Vitamin C Powder
Rollup Pill Organizer
*And my supercharged oatmeal premixed in single servings and packed in snack-size ziplock bags. I just borrow a bowl from the hotel restaurant, add boiling water from the coffee maker and I'm good to go!
Personal Care Products
EVERY MAN JACK Deodorant (Citrus scent)
Fluoride-Free Toothpaste
18.21 Man Made Pomade
Annmarie Skin Care Phytonutrient Cleanser or Aloe Herb Cleanser
Brush With Bamboo Toothbrush
Dollar Shave Club Razor
Dr. Bronner's Organic Peppermint Lip Balm
Germ Warfare and Infectious Disease Protection
Everyone Natural Hand Sanitizer Spray (Coconut+Lemon)
Cambridge Mask Company Face Mask
Woody Knows Nose Filters
O2 Micro Nose Filters
Miscellaneous Doodads
Inflatable Neck Pillow
Peanut Roller or Collapsible Foam Roller
Marpac Rohm Sound Machine
LifeArt Blue-Blocking Glasses
…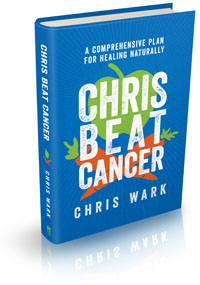 Chris Beat Cancer: A Comprehensive Plan for Healing Naturally,
published by Hay House, is a National Bestseller as ranked by USA Today, The Wall Street Journal, and Publishers Weekly!
Get it on Amazon here
, or anywhere books are sold.
I've interviewed over 60 people who've healed all types and stages of cancer. Check them out
here
. Or use the search bar to find survivors of specific cancer types.
I also created a coaching program for cancer patients, caregivers and anyone who is serious about prevention called SQUARE ONE. It contains the step-by-step strategies used by myself and everyone I know who has healed cancer with nutrition and natural, non-toxic therapies.
Watch SQUARE ONE Module 1 for free here
(((c)))
Chris Beat Cancer is reader-supported. If you purchase a product through a link on this site I may receive compensation from the affiliate partner (like Amazon). Your support helps fund this blog and my mission so my team and I can continue to do the work that we do. Thank you!