Questions I answer and links for video #1
-Will I be wearing Pink this October?
See my popular video Why I Don't Race for the Cure
-How do you monitor progress?
American Metabolic Laboratories CA Profile Blood Test
-What supplements are essential for cancer patients?
-What supplements should vegans (and everyone else) take?
Garden of Life Organic Spray D3 and B12
-Are you afraid the cancer industry will try to harm you?
-How do you convince people you are not crazy?
-How do you protect yourself from EMF/cell phone radiation?
-Do you use essential oils?
-Do I drink alkaline water, what type of water do I drink?
5 Reasons I Love My Berkey Water Filter
-Why is it so hard for people to believe in natural remedies and cures?
-Best source for Aloe Vera Gel
http://www.aloe1.com
-How often do you have CT Scans?
-What is your childrens diet like?
-How often do you eat pasta?
Check out my Paleo Spaghetti recipe
-Do you get a flu shot?
-At what point did you turn the corner to getting well?
-Why is coffee not good for you?
-Do I avoid milk and eggs?
-What do I think about taking chemo for chronic leukemia?
See The Bob Beck Protocol and these leukemia healing stories
Here's part two of the Q&A
Questions I answer and links from video #2:
-Have you used bentonite clay?
Check out The Incurables Program http://www.herbdoc.com
-What do I think about the Paleo Diet?
See my latest blood test results
-What's the best way to bring up alternative methods to someone who is diagnosed with cancer?
-Did I ever consider going to a clinic in Mexico?
See my interviews with Dr. Patrick Vickers of Northern Baja Healing Center in Rosarito, Mexico
See my interview with Dr. Leigh Erin Connealy MD of Cancer Center for Hope in Southern California
I also have great respect for:
Dr. Nicholas Gonzalez MD in NYC http://www.dr-gonzalez.com
Dr. James Forsythe MD in Nevada http://www.centurywellness.com
Dr. Thomas Lodi MD in Arizona http://www.anoasisofhealing.com
-What do I think about coffee enemas, saunas and detox treatments?
Dr. Vickers explains coffee enemas
The best exercise for your immune system is rebounding
-How to overcome mercury poisoning?
See my post about mercury
-Do I still drink coffee?
-How to heal alveoli in the lungs?
-Why isn't it illegal to drive on prescription drugs?
-What do I think about cannabis oil?
My friends Ian Jacklin and Joni Abbott share the latest info about curing cancer with cannabis oil at the 2014 Hungry 4 Health Organic Festival. Part 1 , Part 2 , Part 3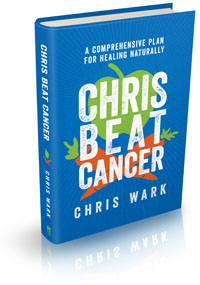 Chris Beat Cancer: A Comprehensive Plan for Healing Naturally,
published by Hay House, is a National Bestseller as ranked by USA Today, The Wall Street Journal, and Publishers Weekly!
Get it on Amazon here
, or anywhere books are sold.
I've interviewed over 60 people who've healed all types and stages of cancer. Check them out
here
. Or use the search bar to find survivors of specific cancer types.
I also created a coaching program for cancer patients, caregivers and anyone who is serious about prevention called SQUARE ONE. It contains the step-by-step strategies used by myself and everyone I know who has healed cancer with nutrition and natural, non-toxic therapies.
Watch SQUARE ONE Module 1 for free here
(((c)))
Chris Beat Cancer is reader-supported. If you purchase a product through a link on this site I may receive compensation from the affiliate partner (like Amazon). Your support helps fund this blog and my mission so my team and I can continue to do the work that we do. Thank you!