So last week I put out a request for questions on facebook …
I got 81 responses. (Yikes)
Here are my answers to the first 23 questions, divided up into three videos.
I plan to answer the rest very soon. :)
And just case you think this is medical advice, let me be clear, it is NOT.
In part one I answer these questions:
-Do you eat any sugar now?
-Should I remove a tumor or not? (see this video)
-What should someone who is newly diagnosed do? (see this video)
-What's the best way to monitor cancer progress besides scans?
-Any thoughts about the ketogenic diet for brain cancer? (healing brain cancer with raw food)
-Any info on cannabis for cancer?(see these posts)
-How do you handle naysayers?
-How did you get your doctors to monitor you, when going against their advice?
In part two I answer these questions:
-Are chiropractic and acupuncture helpful?
-What veggies/ fruits are ok to eat if they are not organic? (more info here)
-What are your thoughts on bee pollen?
-Should you sprout apricot kernels?
-Did you have a before and after hair analysis for toxic metals?
-Will you be writing a book?
-What to do if doctors are pressuring you to do immediate treatment?
In part three I answer these questions:
-How do you approach family/friends about alternative options?
-Was there any part of your protocol that you found unpleasant, how did you adjust?
-Will you talk to my family member who thinks chemo will help?
-Please tell us ways to find cheap organic produce in bulk
-Are ground organic apricot kernels healthy?
-How long should one juice carrots?
-Any recommendations on how to detox, eat right, and live?
-How do you deal with peer pressure about what your kids eat?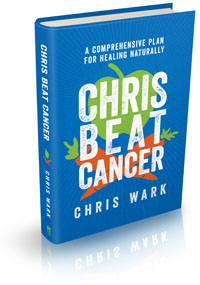 Chris Beat Cancer: A Comprehensive Plan for Healing Naturally,
published by Hay House, is a National Bestseller as ranked by USA Today, The Wall Street Journal, and Publishers Weekly!
Get it on Amazon here
, or anywhere books are sold.
I've interviewed over 60 people who've healed all types and stages of cancer. Check them out
here
. Or use the search bar to find survivors of specific cancer types.
I also created a coaching program for cancer patients, caregivers and anyone who is serious about prevention called SQUARE ONE. It contains the step-by-step strategies used by myself and everyone I know who has healed cancer with nutrition and natural, non-toxic therapies.
Watch SQUARE ONE Module 1 for free here
(((c)))
Chris Beat Cancer is reader-supported. If you purchase a product through a link on this site I may receive compensation from the affiliate partner (like Amazon). Your support helps fund this blog and my mission so my team and I can continue to do the work that we do. Thank you!