I have some fantastic news to report. Three days after it launched, my podcast hit #1 in the iTunes Health category, and topped the iTunes podcast charts at #36 overall! And I made it into the iTunes New and Noteworthy section as well.
Thank you so much for making my podcast launch a huge success.
In the last week I've traveled from Memphis to California twice. I attended two events and connected with some incredible folks that are helping me reach more people. The next 12 months are going to be my most productive ever. :)
Today I'm dropping podcast episode #2, which was recorded at an awesome Airbnb space that I stayed at near Santa Cruz, with a sauna, hot tub, an outdoor shower, and a walking trail to the beach. YES.
In this episode I answer the following questions, which were submitted on my facebook page.
-Are you vegan?
-Do you eat a whole food plant-based diet?
-What are your thoughts on the Nourishing Traditions / Weston Price Diet?
-Are phytates really bad?
-What's the best diet to prevent cancer?
-What do you feed your kids?
-And more
Listen to episode #2 on iTunes
Android users can listen with the Stitcher app


Selected links mentioned in the podcast
[Video] What I ate today
[Video] My blood test results
[Video] The Tower Garden
Vital Choice Wild Seafood
The African Diet Swap

Airbnb is a really cool way to find places to stay, at any price, anywhere in the world.
Just type in your destination and be amazed at what's out there.
You can even use it to rent your own place.
This link will get you $20 credit toward your first booking
One last thing.
Please subscribe to the podcast and take a moment leave a rating and/or review on iTunes. Thanks!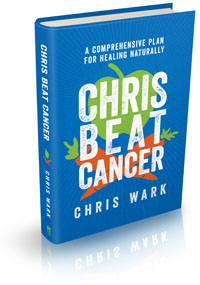 Chris Beat Cancer: A Comprehensive Plan for Healing Naturally,
published by Hay House, is a National Bestseller as ranked by USA Today, The Wall Street Journal, and Publishers Weekly!
Get it on Amazon here
, or anywhere books are sold.
I've interviewed over 60 people who've healed all types and stages of cancer. Check them out
here
. Or use the search bar to find survivors of specific cancer types.
Chris Beat Cancer is reader-supported. If you purchase a product through a link on this site I may receive compensation from the affiliate partner (like Amazon). Your support helps fund this blog and my mission so my team and I can continue to do the work that we do. Thank you!