Ok so Live 5 News in Charleston, SC  did a story on me this week entitled:
"Blogger claims he beat cancer by jumping on a trampoline"
Of course anyone who has spent time on this site, knows that I have never made that claim.
But the title is an attention getter, so I understand why they did it.
For the record, I'm fairly positive you can't beat cancer with just rebounding.
Healing cancer requires a total life change.
You have to address all the health-destroying factors in your life:
– A processed food diet loaded with sugar, salt, meat, dairy and artificial ingredients
– Unhealthy habits like smoking, drinking, legal/illegal drug use, lack of sleep
– Lack of exercise, and extreme exercise like marathons, triathlons, and even crossfit
– Chronic stress
– Negative emotions like guilt and unforgiveness
– Spiritual sickness
– Environmental toxic exposure
30-60 minutes of daily exercise is critical component to health and healing, and rebounding was an important part of my exercise program while I was healing cancer.
So despite the misrepresentation in the title, I think the news story turned out great.
And hopefully you'll get a few laughs from the pictures they used.
So did you catch what the assistant oncology professor said?
"We have no evidence that we can forgo the standard (treatments) and just follow a strict healthy organic diet and exercise."
Hilarious!
Hey doc, we have mountains of evidence. It's called nutritional science and functional medicine.
And it's being ignored in favor of patented and highly-profitable pharmaceutical drugs.
Although there are no phase 3 clinical trials on treating cancer with nutrition, there are thousands of of peer-reviewed studies on the anti-cancer compounds in fruits and vegetables, and hundreds of epidemiological studies on populations all around the world with very low cancer rates and long lifespans. The majority of these people groups eat whole food plant-based diets with very little animal products, get lots of fresh air, sunshine, exercise, and have very low stress.
Beyond that, we have loads of testimonials from people, real people, who have successfully healed cancer naturally. This is patient-centered evidence. Check out all my posts and interviews with Natural Survivors.
FYI: The rebounder I've used since 2004 is the ReboundAIR. I love it.
Read my full post about rebounding here.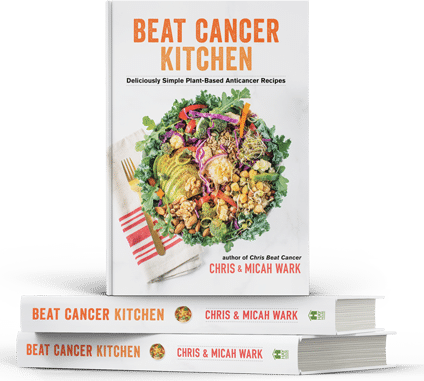 Beat Cancer Kitchen: My New Recipe Book,
Deliciously Simple Plant-Based Anti-Cancer Recipes
Get it on Amazon here
Beat Cancer Daily
365 Days of Inspiration, Encouragement, and Action Steps to Survive and Thrive
Get it on Amazon here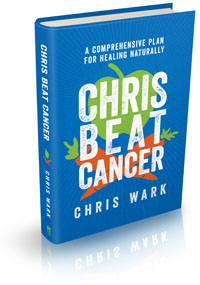 Chris Beat Cancer: A Comprehensive Plan for Healing Naturally,
published by Hay House, is a National Bestseller as ranked by USA Today, The Wall Street Journal, and Publishers Weekly!
Get it on Amazon here
, or anywhere books are sold.
I've interviewed over 60 people who've healed all types and stages of cancer. Check them out
here
. Or use the search bar to find survivors of specific cancer types.
I also created a coaching program for cancer patients, caregivers and anyone who is serious about prevention called SQUARE ONE. It contains the step-by-step strategies used by myself and everyone I know who has healed cancer with nutrition and natural, non-toxic therapies.
Watch SQUARE ONE Module 1 for free here
(((c)))
Chris Beat Cancer is reader-supported. If you purchase a product through a link on this site I may receive compensation from the affiliate partner (like Amazon). Your support helps fund this blog and my mission so my team and I can continue to do the work that we do. Thank you!