"Let food be thy medicine and medicine be thy food"
-Hippocrates, father of medicine, 431 B.C.
An unhealthy diet is a proven cause of disease. According to current estimates, three out of four Americans die every year from diet related diseases such as cancer, cardiovascular disease, and diabetes. So it's exciting to see scientific research proving what Hippocrates told us 2,400 years ago. 
In his TED talk "Can we eat to starve cancer?", Dr. William Li presents a new way to think about treating cancer and other diseases: anti-angiogenesis, i.e. eating foods that prevent the formation of blood vessels that tumors need to grow.
The crucial first (and best) step is eating cancer-fighting foods that cut off the supply lines and beat cancer at its own game like: berries, cruciferous veggies, green tea, and garlic.
Eating 5-9 servings of fruit and vegetables per day greatly reduces your risk for all diet-related diseases.
The foundation of my anti-cancer strategy was consuming 15-20 servings of organic fruits and vegetables per day by juicing, eating my giant cancer-fighting salad, and drinking my anti-cancer fruit smoothie.
Note: I think it would be wise for cancer patients to avoid red wine and tuna, and to consume dark chocolate (raw cacao) sparingly. Enjoy Dr Li's fascinating talk!


See my related post: The top 10 anti-cancer vegetables
More about Dr. Li and the Angiogenesis Foundation at www.angio.org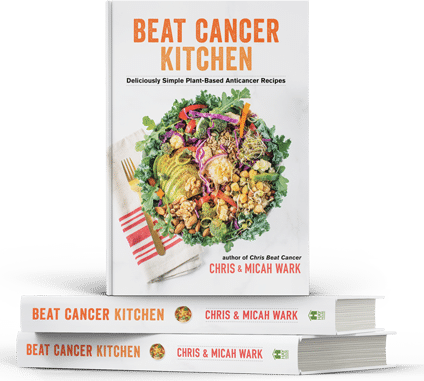 Beat Cancer Kitchen: My New Recipe Book,
Deliciously Simple Plant-Based Anti-Cancer Recipes
Get it on Amazon here
Beat Cancer Daily
365 Days of Inspiration, Encouragement, and Action Steps to Survive and Thrive
Get it on Amazon here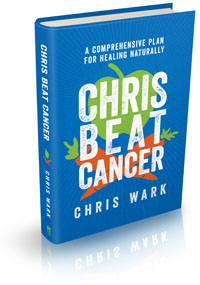 Chris Beat Cancer: A Comprehensive Plan for Healing Naturally,
published by Hay House, is a National Bestseller as ranked by USA Today, The Wall Street Journal, and Publishers Weekly!
Get it on Amazon here
, or anywhere books are sold.
I've interviewed over 60 people who've healed all types and stages of cancer. Check them out
here
. Or use the search bar to find survivors of specific cancer types.
I also created a coaching program for cancer patients, caregivers and anyone who is serious about prevention called SQUARE ONE. It contains the step-by-step strategies used by myself and everyone I know who has healed cancer with nutrition and natural, non-toxic therapies.
Watch SQUARE ONE Module 1 for free here
(((c)))
Chris Beat Cancer is reader-supported. If you purchase a product through a link on this site I may receive compensation from the affiliate partner (like Amazon). Your support helps fund this blog and my mission so my team and I can continue to do the work that we do. Thank you!