After 17 years, Valerie Warwick took a huge risk and walked away from a lucrative income as an oncology nurse because she could not be a part of the conventional cancer industry anymore.
Today she is a health coach and advocate for healing with nutrition and natural, non-toxic therapies.
Valerie and I connected on facebook and after hearing her story I couldn't wait to interview her. She is a warm wonderful person with a big heart and loads of experience.
In our interview Valerie shares her story and insider information about the industry, as well as vital resources that every cancer patient should consider.
Show Notes
– What cancer patients need to know before agreeing to conventional treatment [9:26]
– The nutritional advice cancer patients get from doctors [13:35]
– The critical importance of vitamin C for cancer patients [14:47]
– How doctors profit off of chemotherapy [23:00]
– Why doctors are not allowed to offer any other therapies [24:44]
– Why she finally left oncology [29:23]
– What she learned after working in several alternative clinics [30:11]
– The benefits of Oxygen, Ozone Therapy and EWOT [31:31]
– The impact that stress has on the immune system [36:00]
– Essential tests every cancer patient should have [38:00]
– What every newly diagnosed patient needs to know [40:00]
– Her opinion on cannabis oil [43:00]
Resources mentioned
Valerie Warwick can be contacted via www.mywellnesstutor.com
Curaderm cream made from eggplant for basal cell and sqamous cell carcinoma
https://curaderm.net
RGCC ONCOSTAT PLUS Test
Tests your cancer against 98 drugs and 45 natural compounds to see what it will respond to. Also tests 72 tumor-related genes.
https://www.rgcc-genlab.com/?tests
Complete list of all substances tested by ONCOSTAT PLUS test:
https://www.rgccusa.com/files/1714/1342/7247/List-of-all-Test-Peformed.pdf
ONCOblot Blood Test for early detection
This test will detect a cancer of 2 million cells compared to 4.5 trillion cells for a positive mammogram.
https://oncoblotlabs.com
Protocol for High Dose IV Vitamin C
https://www.riordanclinic.org/patient-care/therapies/vitaminc/
https://www.doctoryourself.com/RiordanIVC.pdf
How to make your own liposomal vitamin C
https://qualityliposomalc.com/process/
Protocol for High Dose Oral Vitamin C
https://www.chrisbeatcancer.com/high-dose-vitamin-c-protocol-for-cancer
Ozone Therapy
https://www.oxygenhealingtherapies.com/Medical_Ozone_Cancer.html
The water ozonater I use can be purchased here
EWOT Exercise with Oxygen Therapy
https://www.oxygenhealingtherapies.com/exercise_with_oxygen_therapy.html
Medical Cannabis
https://www.medicalcannabis.com

Documentary on Cannabis Research Studies
https://www.youtube.com/channel/UCd6YT9YUqOr_aa0qVgkq0gQ

List of cannabis research findings
https://www.letfreedomgrow.com/cmu/GSCListJan2014CONDITIONS.pdf
GcMAF
GcMAF is a vitamin D binding protein that activates macrophages, which are immune cells that recognise, engulf, and destroy foreign matter and produce effector molecules. Cancer cells produce an enzyme called nagalase, which attempts to reduce macrophage activation. GcMAF reduces nagalase and restores the integrity of the immune system allowing it to effectively eliminate cancer and restore homeostatic balance.
https://gcmaf.timsmithmd.com/book/book/4/
Related Post
Nurse refuses treatment for breast cancer. Goes to Mexico instead.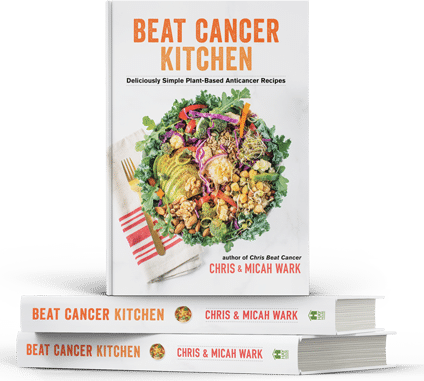 Beat Cancer Kitchen: My New Recipe Book,
Deliciously Simple Plant-Based Anti-Cancer Recipes
Get it on Amazon here
Beat Cancer Daily
365 Days of Inspiration, Encouragement, and Action Steps to Survive and Thrive
Get it on Amazon here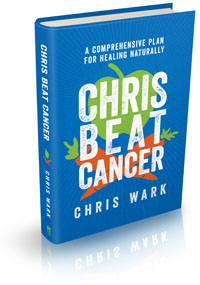 Chris Beat Cancer: A Comprehensive Plan for Healing Naturally,
published by Hay House, is a National Bestseller as ranked by USA Today, The Wall Street Journal, and Publishers Weekly!
Get it on Amazon here
, or anywhere books are sold.
I've interviewed over 60 people who've healed all types and stages of cancer. Check them out
here
. Or use the search bar to find survivors of specific cancer types.
I also created a coaching program for cancer patients, caregivers and anyone who is serious about prevention called SQUARE ONE. It contains the step-by-step strategies used by myself and everyone I know who has healed cancer with nutrition and natural, non-toxic therapies.
Watch SQUARE ONE Module 1 for free here
(((c)))
Chris Beat Cancer is reader-supported. If you purchase a product through a link on this site I may receive compensation from the affiliate partner (like Amazon). Your support helps fund this blog and my mission so my team and I can continue to do the work that we do. Thank you!